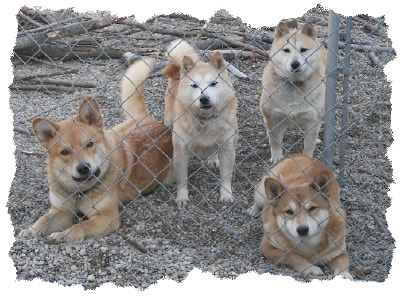 We are a small, all volunteer, rescue. Our president, Pam Peterson, has been breeding, grooming, training, and boarding dogs for over 25 years, and more than 15 of those years she has been involved with and showing Shiba Inus. She is a member of the Shiba's parent club, The National Shiba Club of America. She has also bred, groomed, trained and shown Akitas and Kai Ken, both Japanese breeds with some traits that are similar to Shibas. She is currently Vice President of the North American Kai Association. Pam has been active in rescue for over 10 years. Recently, she decided to formalize her rescue efforts, and Tri-State Shiba Inu Rescue Inc. was formed as an Ohio non-profit corporation. We have also applied for and been recognized as a tax-exempt 501(c)3 public charity with the federal government. We are entirely supported by public donations [we don't receive any governmental funds] and no one in the organization receives any monetary compensation. We do, however, receive an abundance of tail wags and wet kisses.
Our main focus is to rescue Shiba Inus and Shiba mixes, but if you look at our adoptable dogs, you are likely to find a few other types of dogs there. You see, sometimes, if a kill shelter calls us says they have three shibas or shiba mixes and we say we will come get them, but when we get there we find that one of those dogs does not appear to have ever met a shiba before, it's pretty hard to say, nope, take that one back. So, we do what we can, when we can.
We don't have any physical facilities; all our rescues are fostered by volunteers. We try to make sure we meet all the medical needs our rescues may have, including making sure they are up to date on their shots, have been heartworm tested, micro-chipped, and spayed or neutered. We try our best to match each dog with an appropriate home. So when we ask questions about your life circumstances, we aren't trying to be nosey. We just want any adoption to work for both you and the dog.