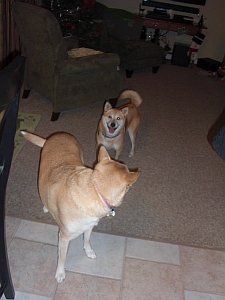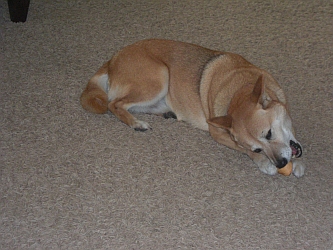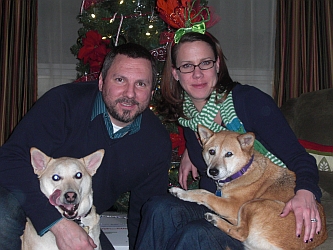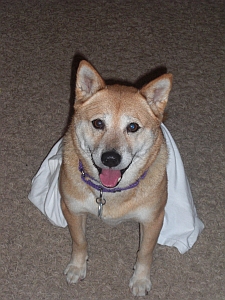 Hi Paula & Robert,
Hope the New Year is going well for you both! I wanted to just send a note and more pictures. Faith enjoyed her first rawhide between Christmas and the New Year, and last night we captured the picture of her 'dressed', it was great!
Faith has definitely integrated herself into our family and is still doing very well. We are still asking permission to pet her most of the time but she seems to be requiring less asking. She is also coming inside better... most of the time. Twice in the last week I had to pick her up to bring her in, which I thought was a good step because I normally use the leash if she won't come in on her own. There are some times when she still seems spooked, though, and we just work through them. Those times seem to be occurring less often. I truly think she is happy :)
As I'm typing this she's roaming about with her tail up... I managed to get a photo, not the best, but I'm sure it'll bring a smile to your faces.
She seems to be pacing less in the house and is content to be in one place to relax. She is still running circles in the back yard, though, I don't know if we could ever expect anything else but no harm - we're just making sure not to let her do that for too long at a time in a minor effort to break the cycle.
I really think she's come a long way and can only believe that things will continue to improve. It's so great to see her grow to become more trusting and to be able to relax and have a bit of fun sometimes.
Take care - I'll keep taking photos and passing them along.
Shannon
---
Portia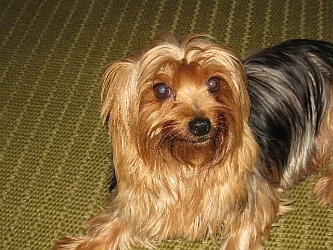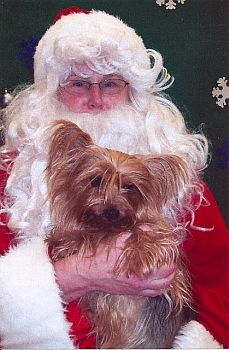 Pam -
So Portia has been with me for a little over a year, and I have to tell you, she is a complete joy! Somehow we are made for each other - and she knew it the day I came to visit you. She really did pick me. So anyway, here are two pictures for you - one with Santa, and one around the house. Hope your holidays were terrific!
---
Girlie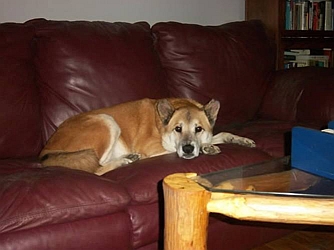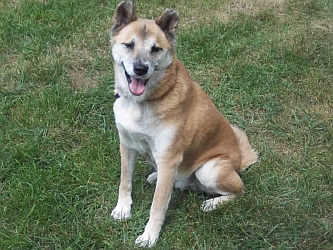 Hi Pam,
After all the hemming and hawing on whether I was going to keep Dakota after I got her home, she is now firmly entrenched in the family. Seeing as how she didn't recognize her name, Dakota, I kept calling her Girlie and it just stuck (she even has an engraved tag with bling). After a few weeks of dealing with everything being knocked off my counters – she can actually jump up onto the counters, the dining room table, and she figured out my stainless trash can – she suddenly calmed down. It probably had to do with her being brought into a house after being outside for so long. I'm sure it also helped when I started crating her while I was gone.
Anyway, I've decided that she shouldn't be crated because Mr Blue isn't and that's just not fair, so she has rewarded me with being the perfect little girl. She no longer gets into anything and between her and Blue they keep each other on their best behavior. I'm sure if you asked Blue he'd say he can't stand her but he's never too far away from her and he lets her pounce on him without getting mad.
After her four "excursions" causing me to chase her around the neighborhood (once for three miles) she will never be allowed off lead but she doesn't seem to mind dragging it around the yard. It's definitely long enough that she can get to the same places in the yard that Blue does even if I have to go untangle her from trees every now and then.
These are the best I can do on pictures because I honestly can't get her to look at me unless I hold her head. I have no idea what that's all about.
---
Lexi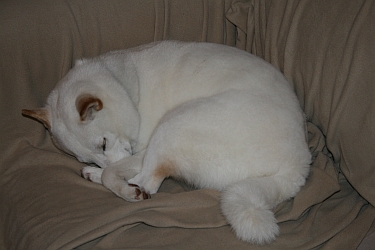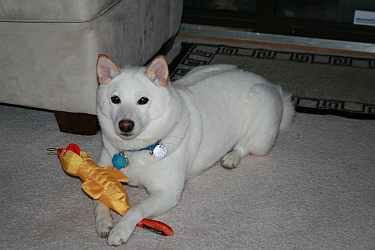 It's been eight months since I adopted Lexi (Nelly), and she has adjusted wonderfully! She is very sweet, funny, and quite a little social butterfly. She loves every person she meets, and expects them all to dote on her (I have to laugh when she gets upset if neighbors don't stop in the rain to give her attention.) She's also made friends with several of the neighborhood dogs, and always wants to play. If her buddies aren't in the mood, she's been known to sneak up and tug on their tails to get things started. That's usually pretty effective!
She is very playful, and keeps me busy. She loves to play fetch and tug-of-war, but her favorite past-time this fall was chasing leaves. She trots around proudly with her "kill" in her mouth until she spots the next leaf to hunt. Too funny! Training is going pretty well, as she's very food motivated - though she's not a big fan of "stay" yet. If I make her wait too long, she starts to run through her other tricks to convince me to give her the treat as soon as possible. We've still got some work to do on that one.
Lexi has been a joy, and I'm so happy to have her! Thanks so much for all you do. Lexi & I will be out soon to visit and work with the new bunch of furkids!
Brandi
---
Frye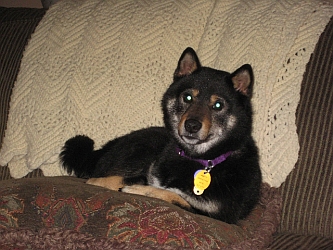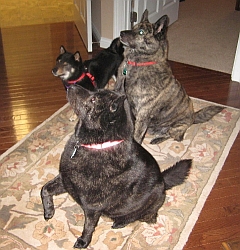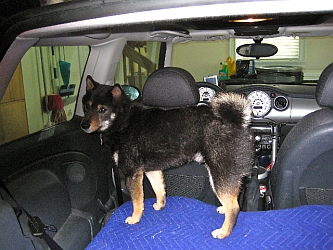 Hi Pam,
Just wanted to let you know how much we love Frye and how well all three dogs have adjusted. Frye keeps everyone on their toes with licks and playful antics. He is just so loveable and fits so well into the Mini Cooper (as you can see LOL). When he road in my lap from Columbus as we were helping transit him to Auntie Pam (I kept telling him you would take such good care of him), I fell in love and decided to try to make him a part of our family ... I am SO glad this has worked out. Now to see how the Shiba 500 works in the motor home ...
Dottie and Tim
---
Tyler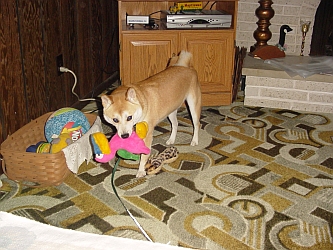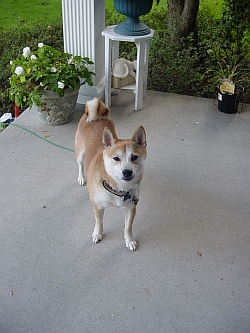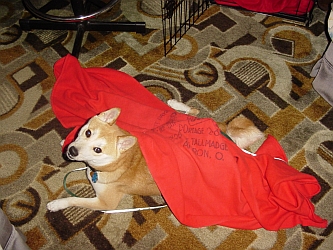 Dear Pam,
Here are some photos of another of your success stories. We adopted Tyler from his foster home with Joe in Columbus around 3 years ago. I can't tell you how much he has enriched our lives. We have spent a great deal of time training him, which wasn't real hard since he is food motivated. He can now sit, heel, lay, speak, walk on hind legs and the really hard one was roll over since he had some trust issues. We have at least two rounds of the Shiba 500 daily and this Shiba can and does Bark (especially if you are late with his meals). We love this little guy and are greatful that you run the rescue.
Mary Lou & Gary
Mogadore, OH
---
Manny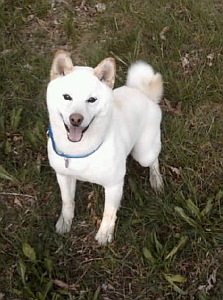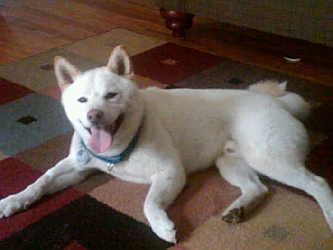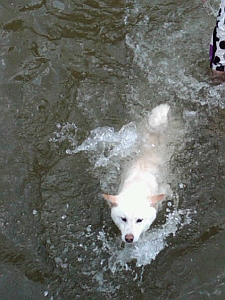 Hey Pam,
It's been almost 4 months now since I adopted Mr. Mann, now Manny, from you. He is doing great and is adjusting well to his new pampered life. He can't get enough fetch and still loves his kong. He has been listening well and as far as training goes he is doing great. I haven't enrolled him in any courses yet but have been working with him myself every day. He is doing well enough that he gets free reign of the house while I am at work. Every day he gets more and more comfortable with his new environment and me. Thank you again for doing what you do, I have a new best friend becasue of it!
-Craig and Manny
---
Meeko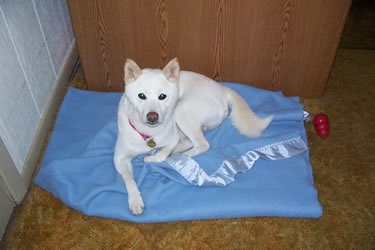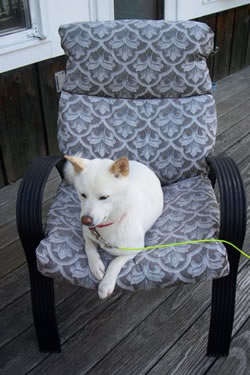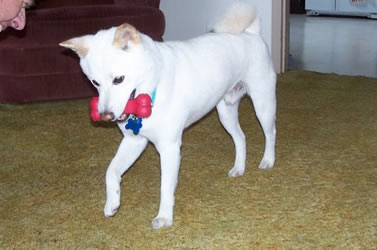 Hi, Pam!
We have to give you an update on how much we are loving the newest member of our family. It's like Meeko has been here forever. He loves spending his days lying beside my desk while I work. To break up his day, he loves to toss around his new bone and we've even been treated to a couple versions of the Shiba 500 -- we didn't realize the open concept house was such a dog heaven! During the evenings, he loves to join us out of the deck (even has his own chair!); he especially loves watching Bill grill up our meals.
Our biggest "problem" thus far is teaching him what pieces of furniture are permissible and what are not. Bill is certain that Meeko must be Japanese for "dog who loves to lie on furniture"!
He and the cats are getting along fine as long as they realize his means his and not ours. Sharing well is not in his make up! Other than that, peace reigns in our cat/dog household.
Thank you again for introducing us to our special boy!
Bill and DeeDee
---
Sammy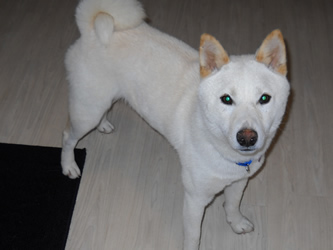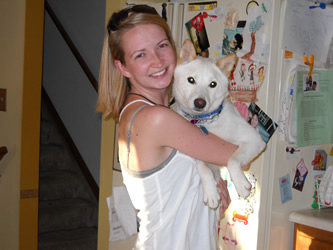 Hi Pam,
Finally got some pictures for you. Sammy is doing pretty good. He is a character of course, but that's a Shiba right??? LOL. There is NEVER a dull moment in my house, but we have a lot of fun, and a lot of laughs. Sammy has come quite a long way; he now can come (when he wants to), sit and stay, and he's getting better at the not begging for food thing. Doesn't sound like much, but you know for a Shiba, it's progress!!! He is happiest outside where he can chase a bird or rabbit, but we have fun inside too with his new favorite toy, the tennis ball. Glad to finally find something he will chew on besides my shoes, rugs...well pretty much anything! But his cuddles make up for it. Hope you are doing well! Take care.
Brandy & Sammy
---
Hercules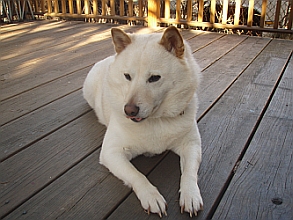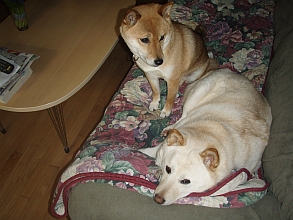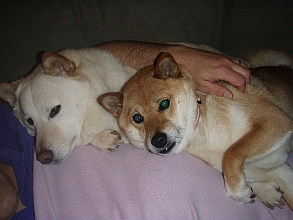 Hi Pam:

My husband and I adopted our beautiful Hercules from you three summers ago and being that we don't own a digital camera, we've never gotten a chance to send pictures. Well, we borrowed one from a friend and figured it's about time we sent some. Herky has been such a wonderful addition to the family. He is sweet, gorgeous, healthy, loving, hilarious, and he gets along with his sister Sakura famously. We love him beyond words and are grateful to have him in our lives. Thank you for taking care of him until he found a new family.

Carmen & Mike S
---
Saki

Hi Pam!
Happy Spring! Hope all is well. The new tristate shiba website looks great. Thought I would send you some pictures and an update on Saki so you can add her to your happy endings page if you would like.
Saki (formally known as Sakura) is all settled in after a couple months in York, Pa. She has been loving Spring time in our fenced yard which is full of different flowers and foliage. So many smells to explore and butterflies to chase around. She has gained some weight, up to 22 pounds and has mastered how to sit and shake. She even knows where we keep her dog treats. Thanks again for doing what you do, it has been an absolute blessing to have Saki, she is such a special part of our family.
Thanks Again, Pam!
Sincerely, Sarah & Saki
---
Napoleon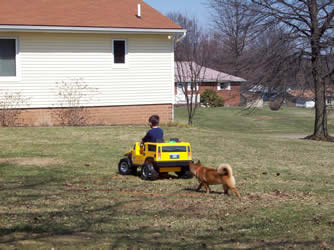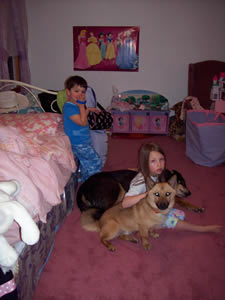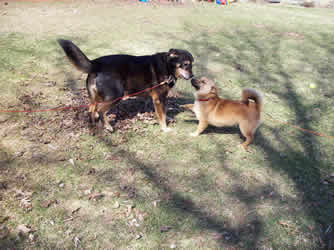 Hello from Canton!
We are excited to update you on Napoleon. He loves the family as much as the family loves him. Our other dog Brownie loves him as well. They roll around and wrestle in the back yard all day. Napoleon loves to sneak up on birds that land in the yard and bark at the neighborhood cat. He plays fetch with the kids and tackles them when they get home from school. He was actually hugging Brownie in the morning by jumping up and using both front paws to hug around her neck then he would rest his head against hers. She would try to back away and he would stay attached wagging his tail and walking on his back two legs. We want to thank you for helping us find such a wonderful new addition to our family.
Thank you again!
Jerry, Jennifer, Taylor, Logan, Peanut, Brownie, Napoleon, Little Foot (turtle), Fish and Snails

---
Yoshi and Kenji (formerly Dingo and Ian)

The first time that I saw Yoshi's sweet face on Petfinders.com, I fell in love! My husband and I had been looking for a dog for a few months, but knew that it had to be the right one. We drove out to see Yoshi on a hot, summer day in July of 2007. As soon as we met him, we knew we had found our dog! We took him home that day and our life has not been the same since! He is the most wonderful, loyal, loving dog we could ever hope for and has brought so much joy to our lives! About a year after Yoshi moved into our home, we decided that he would love to have a sibling. Since we had such a good experience with Pam before, we knew that was where we needed to go again! I started looking at the rescue dogs, and once again, fell in love with a handsome little face! We've had Kenji for almost two months now, and can't imagine life without him! He is the sweetest boy and loves his big brother, Yoshi! We couldn't be happier with our two pets and we owe it all to Pam and her wonderful work as a rescuer for animals. Thank you so much Pam! You've changed our lives for the better!
Jessica R
---
Lilly (formerly Marble)

Hello Pam!
We just wanted to give you an update on Lilly (Marble)....since we brought her home on June 1 of last year, she has become an irreplaceable part of the family......

Although she was shy at first, she has really come out of her shell ------ now she greets everyone who comes to her house with her tail wagging like crazy. She loves to play with all four of the kids ------ and loves to have her belly rubbed! She has truly become a little princess, and we wouldn't know what to do without her....

I have attached a picture or two.....please be sure to add her to your Happy Endings page.

Have a wonderful new year --- and thanks for everything you did to make Lilly a part of our family.

Todd and Tammy V.
Zach, Cydney, Meghan, Meredith and LILLY
Sellersburg, Indiana
---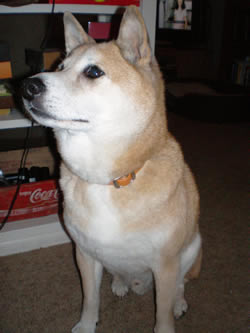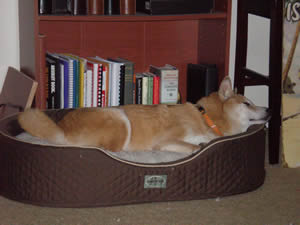 Calvin settling into his new home in Florida.
Hi Pam! Thanks for asking, Calvin is doing great. He's really enjoying chasing lizards and squirrels around my apartment complex! We've bonded over the time since I got him – he will jump up and sit next to me now without prompting and we'll cuddle. He loves it when I scratch his little rump. I really love the little guy! He's got such a great personality.
I love the new website! I'm glad to hear that you guys are qualifying as a nonprofit. And I love the happy endings page!
Thank you so much for the work you do!
Beth
---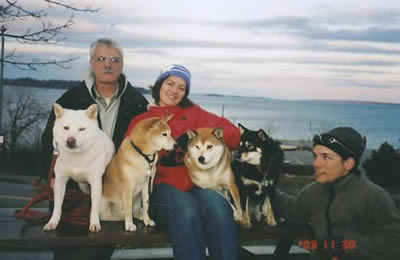 The Dukes/Keith Family
Proud family of (in order of adoption): Lucky, Trixie and Buddy, and Auggie
In September of 2001 I lived in New York City and witnessed moment by moment the tragic events that took place. My husband, Kevin, was out of town on business and I decided that from that day on I needed a constant companion to keep me company while he traveled. We knew that we wanted a shiba based on what we had read in a Brian Kilcommons book, we just didn't know when. Now the time had come. Knowing how many dogs needed homes, we began searching the internet for shiba rescue resources. I'm so glad that we found Pam's site. My parents lived in Ohio and arranged to meet Lucky (aka Travis) at Royal Kennels. The rest is history, and the future…Lucky has been such a wonderful dog I decided we needed another and since my parents had to let go of Lucky, they needed one too! That's where Trixie (for us) and Buddy (for them) came along-they were the next two. Then my parents saw how great it was to have two and they got Auggie. Now we all live in Maine as a happy shiba family. Thanks Pam!
---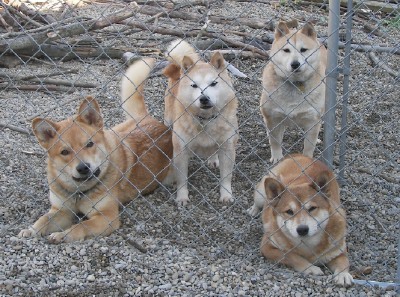 ALL 4 GIRLS HAVE GREAT NEW FOREVER HOMES:
Vickie and Sandy, pictured standing where the last 2 to find homes, of the 13 dogs I rescued from an Amish puppy mill in August of 2006, Sandy and Vickie where here for over a year waiting, and thanks to Julie and family, for driving over 14 hours each way to give the "Sisters" the forever home they deserve.
Kathy has a wonderful new home, thanks Dave and Lisa for driving 12 hours each way to give Kathy the home she deserves, laying on right. Jody also is in a great new forever home, thanks Cox family, pictured laying far left.
---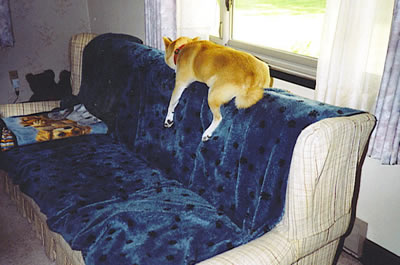 Johnny
After looking around on the Internet, we found Royal Kennels. Lo and behold there was a little Shiba up for rescue with the name of Johnny!!!!! He appeared to be OK - housebroken and real laid back. He had a habit of running and hiding under the bed for hours if anything spooked him. Appeared as if he was teased by kids and that was his escape. It took over a year for him to stop the hiding and accept his new home. Right now, two years after rescue, he is as close to a perfect dog as we have ever had. Very laid back, calm around kids and other dogs. Only downside that we see is the bushel basket of hair that you have when he decides to shed in the spring. Being so sweet makes up for the hair AND ignoring you BIG TIME!!!!!!
Bob M.
---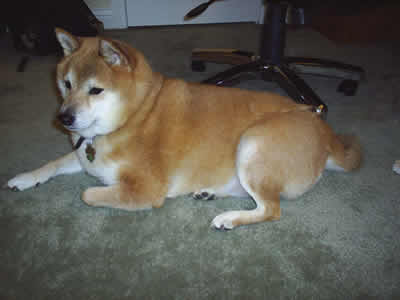 Todd
Well its been 3 yrs. and Tod is still keeping us around. I guess he still likes our company and we must be doing an OK job as his wait staff, so I'm confident that he won't be putting us up for adoption anytime soon. The kids on the other hand..... Anyway, he integrated with the family and our lifestyle very quickly and soon became our third child (my only boy). He is even as bossy as my two girls. Its funny how he fit right in, he doesn't clean up his toys either and doesnt like vegetables. It is just incredible how much warmth and companionship he has brought to us. I am thrilled that we were able to give him a good home and I would never hesitate adopting another Shiba from Royal Kennels.
---

Earl
My Fiancé, Jason and I were watching the dog show on TV one night when I spotted the Shiba Inu. It wasn't very long before I found Pam's website. Earl was the one. I knew it from his pictures. We were living in Nebraska at the time and were getting ready for our wedding in South Padre, TX . The weather was not working in our favor however, it was too hot to ship. It soon became clear we were going to have to drive to OH to get him. This was going to be difficult considering we were getting ready to drive two days in the opposite direction. . We drove 2 days to South Padre, got married, were there about a week and then started our trek up north. It took 3 days of non-stop driving but we made it. Earl started out a little rough around the edges. He was a almost 8 years old and had lived his entire life in a puppy mill. had never been potty trained, was scared by noises such as the TV, and really had little human contact. He has shaped up to be the perfect member of our family. He is very sweet, loves attention, loves to play but also loves to be a lazy dog. He is a very spoiled "only child".
---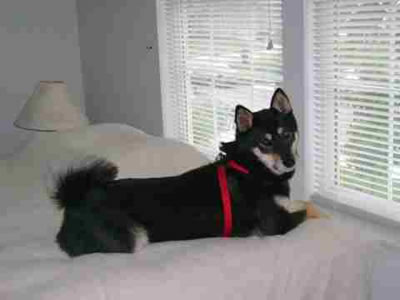 Benji
One of the pictures is of Benji on my bed--his favorite place! He is soon to have a baby sister. We have introduced him to other children and he has been so gentle. He is just the best boy in the whole world we think!! Thanks for following up with me. Hope you are doing well. I still can't thank you enough for Benji!
Have a great week,
Jennifer
---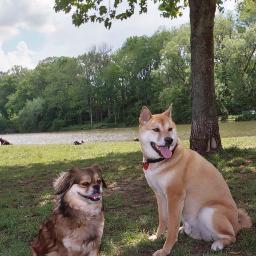 Scout
I got Scout from Pam when she came to a Pet Expo in Michigan. From the start, he was a very confident shiba inu who is quite affectionate and comes up to you for pettings and belly rubs. He is an unusual shiba in that he is trustworthy and has never doorbolted, stays in the yard (don't worry Pam, we have the invisible fence), comes when called (it may take a couple of times of calling), and loves to go for car rides. He has even come on the plane with me as a service dog when we went to california for a shiba meetup. He did very well laying at my feet and at the meetup, he was the biggest shiba inu we had there. (19 and half inches and 42 lbs.) Scout adores his little brother Max, a tibetan spaniel, and paws him to engage in friendly tussles. We were very lucky to get such a wonderful shiba who embodies all the best traits and none of the drawbacks a shiba inu can have.